Container Accessories: What's Available and What Do You Need?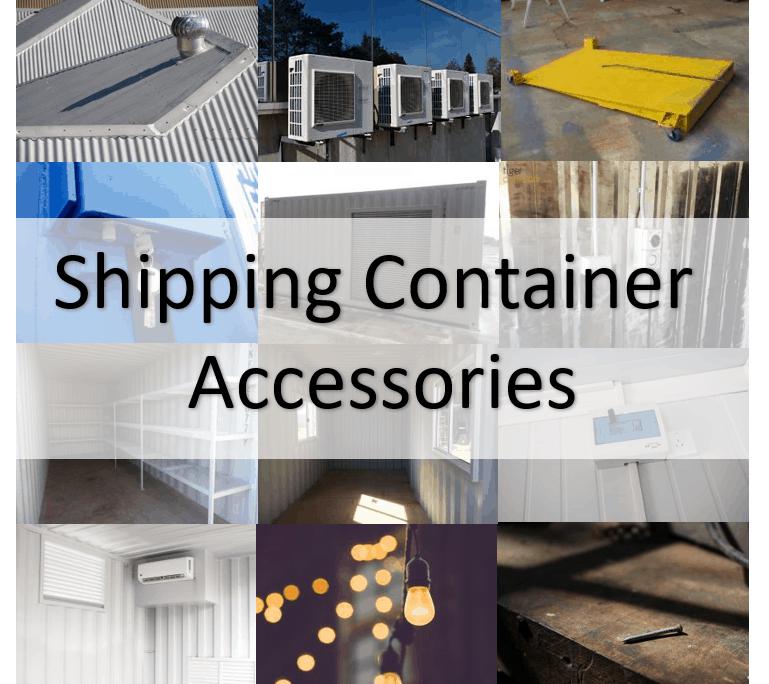 If you have been thinking about purchasing or leasing a shipping container, then you may already know that container accessories are the next natural step. What kind of container accessories are available? Which ones will work best for your container? These are important questions, but they can only really be answered by you because you know best what you wish to use the container for.
What types of Container Accessories are Available?
There are many different types of items, but the main ones are:
Divider walls

Racks

Shelf Brackets

Lock Boxes

Locks

Swivel Casters

Windows

Vents

Doors
The Divider Wall
This type of wall can be installed without the need for it to be bolted or welded to the container. If you want to remove the wall later, there is no way to know that a divider wall was once installed. These walls can be installed or removed quite easily - in approximately 20 minutes and can be placed anywhere in the container. These walls usually have a powder coat exterior.
Pipe Rack
The pipe rack has four main support arms that are mounted at an angle of 30 degrees to increase the volume capabilities of the rack. Each support arm is reinforced to add extra strength. Most of these racks are designed to include a roll stop to provide extra safety inside the container. These types of racks offer horizontal storage in the interior or exterior of the container.
Shelf Brackets
Shelf brackets are designed to hold heavy loads and the load is generally distributed over various bracket arms. One example is a shelf bracket designed to hold 550 pounds on each bracket arm, meaning that each bracket can hold 1100 pounds. Double the bracket arms and you then have 2200 pounds loading capacity. These shelf brackets are generally designed to be lightweight yet strong.
Lock Box
The standard lock box will hide your lock and protect the padlock so that it cannot be cut with bolt cutters. This ensures that the contents of your container are kept safe and secure. A lock box is completely secure and tamper proof and can be bolted on or welded to your shipping container.
Locks
Locks are designed with a solid brass body and come in a wide range of sizes. Each lock is usually keyed differently than another or you can order them to open with the same key. The heavy-duty lock is designed for use in a commercial or industrial setting with the heavy brass body of the lock resistant to corrosion.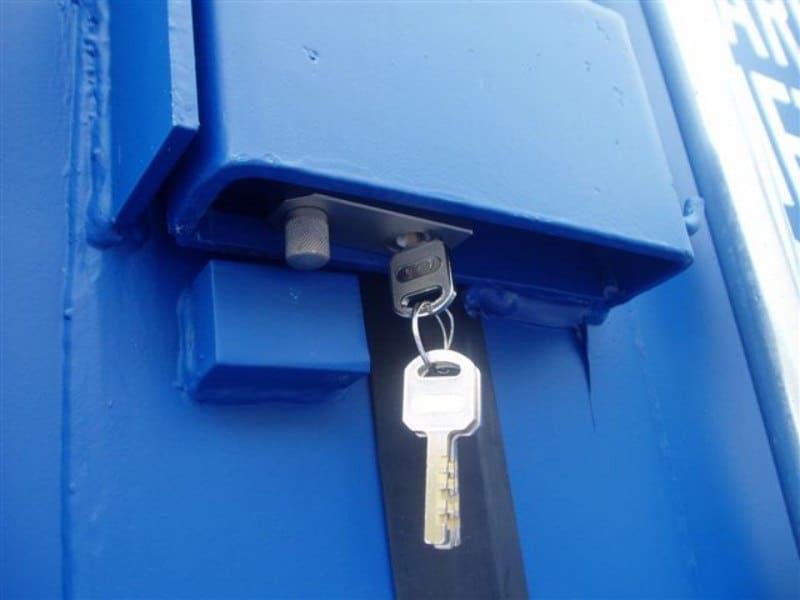 Image from Tiger Containers
Master Puck Lock
This type of lock is ideal for a lockbox because it is constructed with reinforced die cast metal and the cylinder can be re-keyed to a new key, keyed alike or different. These locks are designed to be resistant to cutting and are impossible to pick with break in tools.
Sobo Lock
This high security lock is created from hardened steel with chrome plated construction. The lock is large bodied and heavy duty offering maximum security.
Twist Lock
The twist lock is designed to fit into the corner casting of a shipping container. The pins are placed in the corner and then twisted to lock stacked shipping containers to one another. The locks are designed with double ends specifically to fit two containers. The flat handle offers extra strength.
Swivel Caster
Swivel casters are designed to support up to 6600 pounds. These casters have a dovetail twist lock and a brake (usually) so that you can move your shipping container around any area safely and easily. Casters are available in a variety of supporting weight sizes, so you will need to decide how much weight you wish to support before you order your casters.
Vents
Vents are installed in a container to provide ventilation and to preserve the products stored inside. Vents are generally designed to resist the damage from impact and have bug screens built into them. This can prevent insects and rodents from getting inside of the container. Vents are easy to install, about thirty minutes is required and they can be welded on (permanent) or bolted on (removable). Vents can prevent dangerous fumes from building up inside of a container and are durable and secure. You have the option of installing a vent at either end of your container or on the door of the container. It is recommended that you installed between 2 and 6 vents on a container, but the main consideration is the length of the container. If your container will be in an area where it will be exposed to a lot of salt (near the ocean), you may want to consider zinc-plated screens.
Windows
It is only natural to install windows in a shipping container if you are looking to let more light in. Windows are designed in a variety of sizes and can be welded in or bolted on. Drip plates should be part of the window and you may also order security screens. Bug screens can be included to slide or open with the window.
Roll Shutter Door
If you want to easily access your shipping container, a roll shutter door is a good option. The door can be easily opened and closed quickly and is light enough for everyday use. These doors can be attached to your shipping container by being bolted on or welded in. The door comes with a roller track that it is installed on. These doors are usually constructed from aluminum and are about 72" wide and 103" high with a 1/6" thickness.
Whether you own or rent a shipping container, there are countless container accessories that you can order or have custom made to suit your needs. We have covered a few examples of accessories here, but these are not all the accessories that you can purchase. The best part of shipping containers is that you can have them outfitted to suit your needs, with dividers, vents, windows, locks and screens, there really is no limit to the customization options.